Be Open to Prosperity
One important thought I learned long ago is that prosperity, including money, can come through any channel. Focusing on one's job or business to be the only channel which money flows through can be very limiting. The Universe is vast, abundant and unlimited. Restricting our flow of money (energy) or anything we desire to come through one avenue will only slow things down.

I'll be writing more about opening ourselves up to this flow soon with some personal life examples.
Many Blessings,
Chyrene
The Isle of Light
www.theisleoflight.com
The Isle of Light Internet Radio Talk Show
www.live365.com/stations/avalon22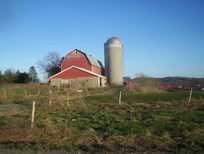 I had to take this picture of such a beautiful April day here in upstate NY!
So far today it's 77 degrees with an expected high of 78. That's pretty good for spring here!