The Number 8 and Our Wallets Revisited
8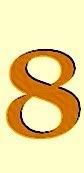 8
If you listened to George Noory on Coast to Coast talk radio late last night, his first guest was Glynis McCants, Celebrity Numerologist, who gave more information about placing the number 8 in our wallets to increase money (see my earlier post called,

Placing the Number 8 In Your Wallet

).

When placing the number 8 into our wallets, Glynis suggests that we make sure our beliefs are in harmony with prosperity and if they are not, we must reprogram ourselves with positive affirmations such as, "I pay my bills with ease" or "I always have money", etc. As a professional numerologist myself, I agree with her completely and have explained this to my clients when they want to add eights into their lives. She also recommends taping the number 8 on the side of our computers to help increase prosperity. Having too many eights, Glynis warns, can cancel out the energy.

By the way, for excellent money affirmations, please review my post called,

Using Prosperity Affirmations to Reprogram Ourselves

.